Apostille services in Kazakhstan
Obtaining IIN (Individual Identification Number),
replacement /duplicate documents and certificates
Police Clearance Certificate - PCC / Criminal Record Certificate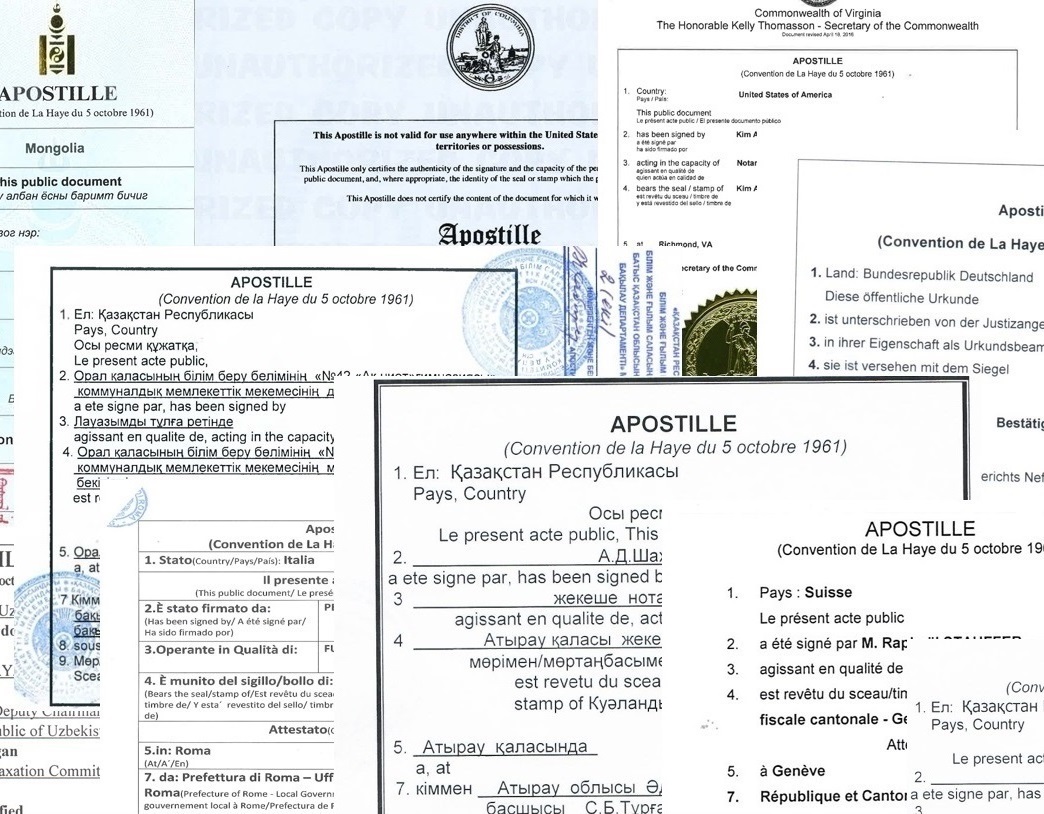 ---

Obtaining an apostille for personal documents and documents issued to a
legal entity (documents issued in the territory of the Republic of Kazakhstan)
---

Obtaining an IIN (Individual Identification Number)
for non-residents / foreigners
---

Obtaining replacement / duplicate documents and certificates
(Police Clearance Certificate - PCC / Criminal Record Certificate, certificate of marriageability, address certificate, birth cerificate,
marriage certificate, divorce certificate, etc.)
---

Professional translation and notarization services
(certified translation)
---

Place your Order
Online
Let us know what services you need (by completing our Request Form below or contact us by e-mail or WhatsApp)

Post your documents to our Office
Post your documents to our office address. In some cases, it will be sufficient to provide a scanned copy.

We will take care of everything else
Make a power of attorney for our employees and forget about the need to communicate with government officials, forget the queues and hassle.

Receive your apostilled documents
Your apostilled documents should be with you in just a few days (delivery of documents abroad is carried out by courier services)
---
DOCUMENTS WE APOSTILLE
All official documents issued by public authorities of the Republic of Kazakhstan, as well as by notaries.
---
If there are any documents related issues in Kazakhstan and the CIS countries, please contact us and we will try to help you.
B Perfect Match (BPM) has been operating for over 10 years. The company's head office is located in Kazakhstan, the city of Almaty. Thanks to its geolocation, BPM employees understand all the nuances of local legislation, which is very important for the correct legal processing of documents. Every BPM employee has access to an extensive portfolio of knowledge and experience accumulated over the years, which is a critical success factor in any business.
---
We Are Here to Help
Our consultant will contact you to clarify all the details of your needs.
We are pleased to receive your inquiry by e-mail, phone or WhatsApp and will contact you as soon as possible within working hours.
Any enquiries delivered after business hours or on weekends or holidays will be handled on the next business day.
Please let us know how can we help you?
Contact us
B Perfect Match (BPM)
Apostille Services Company
Office 248, 18th floor, Bld. 5A, BC Nurly Tau, 7 Al-Farabi Avenue, Almaty, Kazakhstan
Мне нужно было повторно получить свидетельство о рождении старого образца (40-х годов). В другом месте у меня отказались принимать заказ, сославшись на проблематичность. А в B Perfect Match мне предоставили данную услугу быстро и без всяких проблем.
Дильмурат Оздоев
Сегодня мы получили наши документы.
Огромное вам спасибо! Сервис на высшем уровне. Рекомендую.
Наталья Селезнёва